Oregon Airplane Wrecks
I'd heard whispers in the spring of the Oregon airplane wrecks, a B-24 in the Steens mountains, a downed P-38 Lightning outside of Christmas Valley that went down in a gunnery target practice in 1945 and an A6 Intruder that went down in 1973.
I got a chance to go after the B-24 this last fall and found out after 4x4 crawling up most of the way to the site that about 6 months previous (2013) the government had come in and removed the wreck AND the memorial that the families had installed. (That, was a hot topic.) So, you can scratch that one off your list.
Now, about those wrecks in Christmas Valley. This is a fairly well known Oregon airplane wreck site, just hard to get to.
A friend had stumbled the P-38 and A6 wrecks somewhere around 17 years ago while hiking with another friend……They found the dog tags of the pilot, Maxwell Clark, in the wreckage and sent them back to the government….but he didn't know really where it was, except it was "one hellova hike up there."
Since my mother's father designed the P-38 and my father's father flew them, I'm particularly interested in them. Being able to photograph one sitting in the desert, well, that is a dream come true….. It took me a few days of research to actually find the location of the Oregon airplane wrecks. The kindness of a BLM guy, who after hearing the reasons for my quest (which was partly that I wanted pictures for my grandpa, who was still here with us) mailed me a packet of maps and the crash report both planes, pointing me to where I needed to go. One half mile away from the P-38, lies the bones of an A-6 Intruder that also crashed out there in 1973 far more intact, but spread out over ¾ of a mile.
After months of wishing and planning the trip to go find the elusive Oregon airplanes wrecks, one beautiful day in October, we were on our way. "We" being my husband, my dad and step-mom and I. My dad really wanted to go. I was a little concerned because he's still recovering from a massive stroke and while he's made good strides, he's still limited in stamina and agility but has enough heart to usually make up for it but I had no idea what "one hellova hike up there." Really meant… ….and we had another agenda now. We were going in memory of the grandpa I wanted to get photographs for. He's passed a month earlier. The night before I spoke at an 89 year old man who had been there several times. He told me we were better off going down the Burma Road. He lives there (I mean out in that general region…no one LIVES there)..see? (Look up.)
I figured the worst would be that we would get there and decide that we couldn't make the hike. We had maps to two access roads to the Oregon airplane wrecks though so…how bad could it be? (Stop laughing…)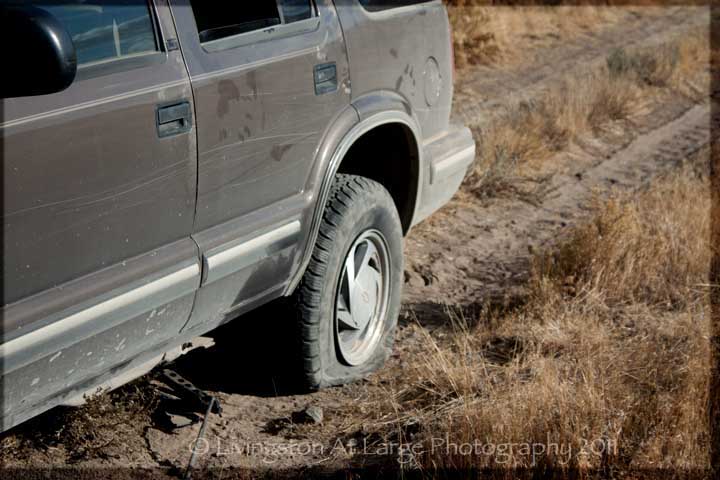 The Burma Rim is…HIGH. We got down the "road" after dinging our frame a few times….we kept hoping if we went further, the rim would have a saddleback or something like a….gap? Or a trail? What we found were really seriously rocky roads leading to a couple of 3" gashes in the sidewalls of the left rear tire. I can't imagine the warranty covers this.
Dad did supervise the tire change well. You can see the Burma Rim there in the background. It looks much lower than it is and that was the only "gap" we found. The rest is much higher.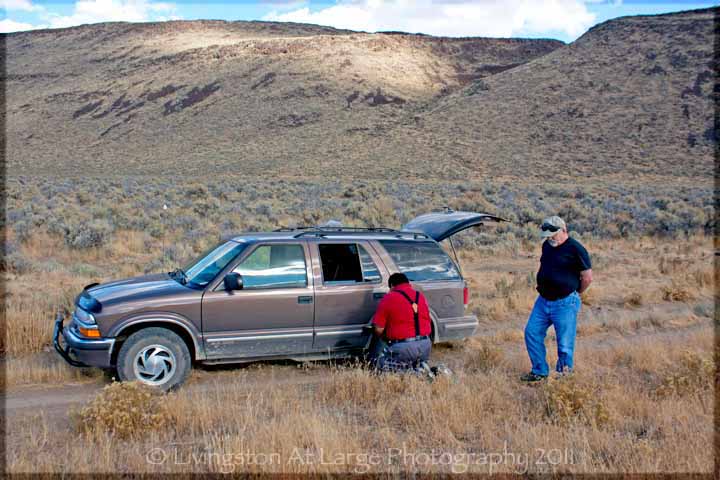 We did decide that Dad wasn't up to an over-the-rim hike. He said he'd stay in the car…… Now, I'm adventurous and ambitious, but I'm not heartless. I couldn't leave my dad and mom, both elderly, sitting in a car on the floor of the desert with a can of Pringles, a jug of Snapple and no phone service, while I spent hours hiking around the desert.
We did at least check out the other road that went in on the other side of the rim. We (meaning "they") were first a little put off by the barbwire fence that was across the road, but after encountering more than a few cows I realized it was not a "KEEP OUT" gate. It was a "KEEP IN" gate and that was a BLM access road which, by rights, I deserved access to since they gave me a MAP), so I climbed out and wrangled it open. About a half mile down that road…..ROCKS bad rocks, just like the last batch of tire eating rocks and we now had no spare. Even I said it was time to stop. Really. I hate to admit defeat, which FYI, I'm NOT, I'm admitting……delay. It was getting late. But not too late to possibly get back to Fort Rock by sunset :)
I can't really waste something, especially a photo shoot day. I'm stubborn, I'm Scottish, I quietly pouted for a few (dozen) miles..but they're airplane wrecks, one has been there for 66 years. I bet they'll stay a bit longer and wait for me. I cheered up contemplating the possibilities at Fort Rock.
We headed out to see if we could catch it at sunset. The consolation was acceptable.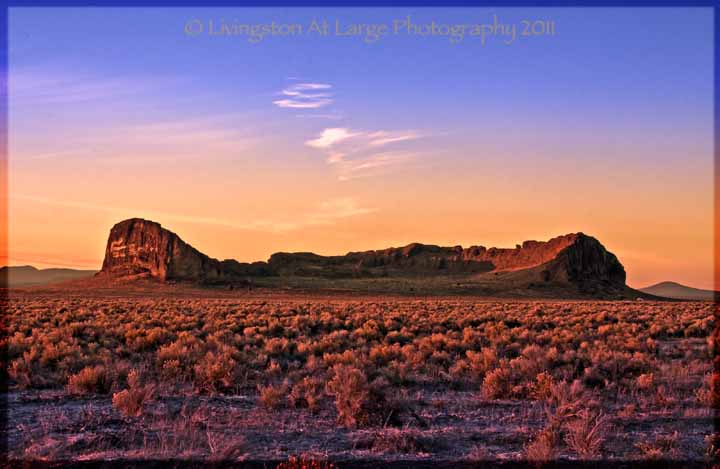 I'll be back. With horses, an ATV, friends that will hike the rim with me, SOMETHING. This is not over.
Those airplane wrecks, they whisper to me. I'll be back.
Secretly I am happy it is that hard to get to them. They are now designated "Historical Landmarks", so it is illegal to remove anything from the Oregon airplane wrecks, which of course stops no one that's a jerk ("canoe") to my friends in the know....and really wants to, but it's freakin' hard to get there you really better WANT to…. …and I do.
Maps:
This is the mark across the land where the A6 Intruder lies. That big black snakey looking thing on the left is the Burma Rim.
To see this map in a larger format, click on it.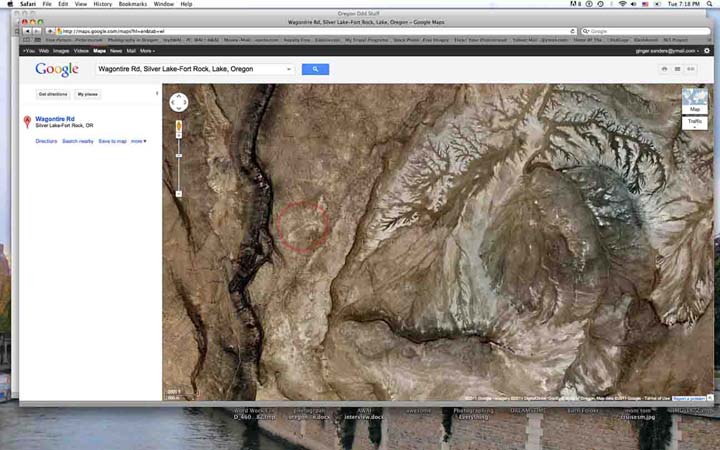 This is the Burma Road. It takes off Highway 5-14 AKA Wagontire Road and runs to the west of the Burma Rim. To get to the Oregon airplane wrecks you have to go up and over.
To see this map in a larger format click on it.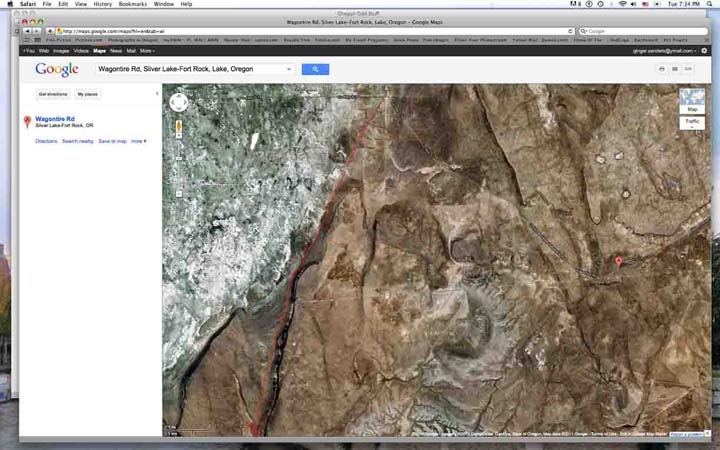 Further east on Wagontire Rd is the BLM road is the access road that runs on the east side of the Burma Rim. It is the only turn out on that odd U-shaped jag that the Highway takes there. You will see it is blocked off. It is a BLM road on open range. Make sure you latch that gate really well behind you. "Gate", meaning floppy barbwire on old posts. Be careful.
When you get 9.6 miles down park and walk....the Oregon airplane wrecks are over the hill about 1/2 mile.
To see this map in a larger format click on it.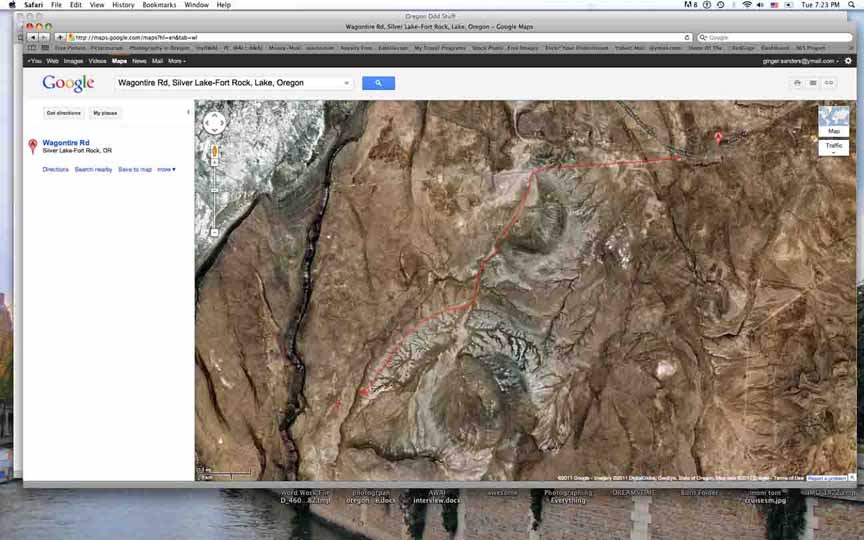 Here is the same area interactive so you can look at all of it and move it around. You just don't get my handy red lines.
Map of The Oregon Airplane Wrecks Area
---
---