Oregon iphone Photography
All around the state there are chances for great Oregon iphone photography.
I admit it, until I got an iphone, my stance on phone photography was summed up in a statement I heard at a cycling race. "If your camera can make a phone call, you're not a professional photographer."
Now that one of my stock agencies is accepting phone photos for sale, that statement by definition of "professional" is no longer true.
Another bit of truth was stated by Chase Jarvis "The best camera is the one that's with you."
Now I find myself shooting with BOTH. My iphone for instant sharing and my DSLR for stock and yes, sometimes I shoot the iphone for stock. **SHOCK**
I'm not as good at is as I'd like to be, but I've found that for anything like that it just takes doing it….over and over and over.
So far, for my Oregon iphone photography I process mostly with the Snapseed App. I got the app long before I got an iphone. Why would you do that, you ask? Well, it was free for a couple weeks and it's usually $4.99. I had seen what wonderful things my friend Autumn Eden was doing with it and I though just in case I ever get an iphone…well you know how us Scottish people are.
Six months later it paid off!
One glorious Sunday we set off on an adventure that got turned around a few times because of both park and fire closures. We ended up on the Warm Springs Indian Reservation, where there are a few abandoned Oregon churches. I will tell you be careful when taking photos there on the reservation. I had been forewarned so I knew the scoop. The people who live there are VERY protective of their privacy. Do NOT go traipsing around on private property without permission and the like.
I will be adding new images as they come along and starting them here at the top.
Big Summit Prairie. Home to the wild horses, some of the Oregon mines, fantastic wildflowers and stunning landscapes.
The Blue Ridge Mine out in the Ochocos.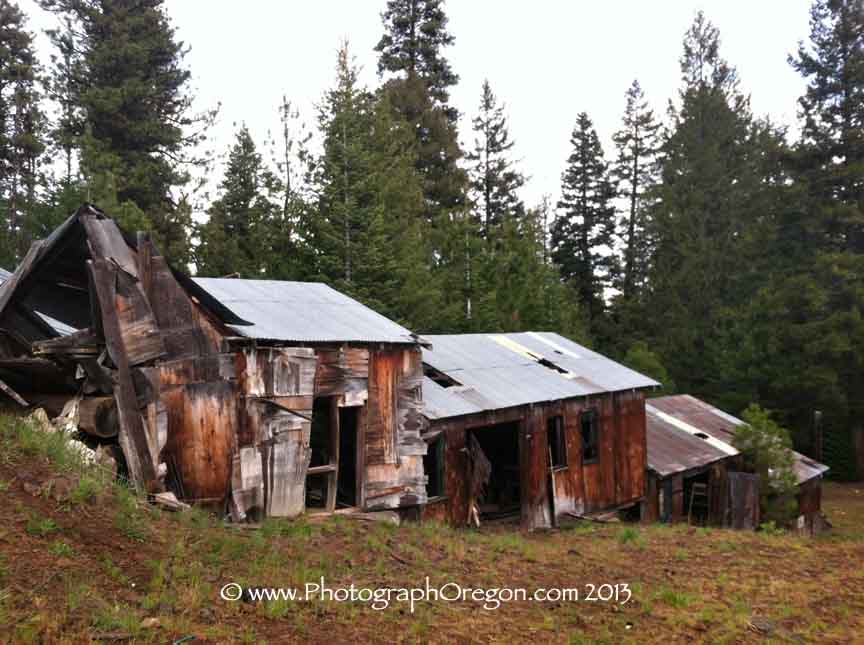 I actually got an image inside a cave,(Skylight Cave) with an iphone. Pretty cool.
Another shot of the Grass Valley Church, my favorite place for Oregon iphone photography (or any time photography), this one at night, lit by headlights. You can see the low light was not helpful here.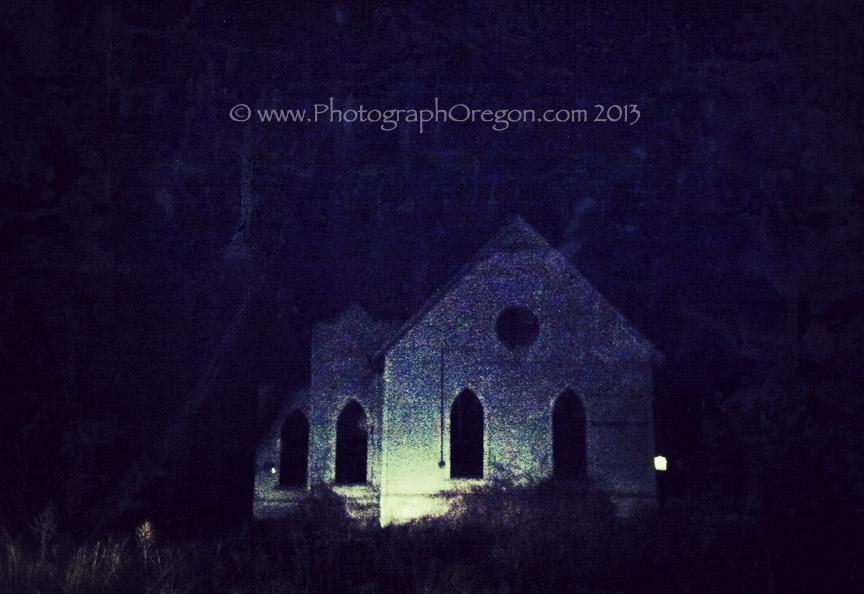 This is Wakeena Falls on a rainy day in the Columbia River Gorge. Heavily edited with Snapseed.
This was at the Fairy Tale Shoot in Macleay Park in Portland. What a great time we had!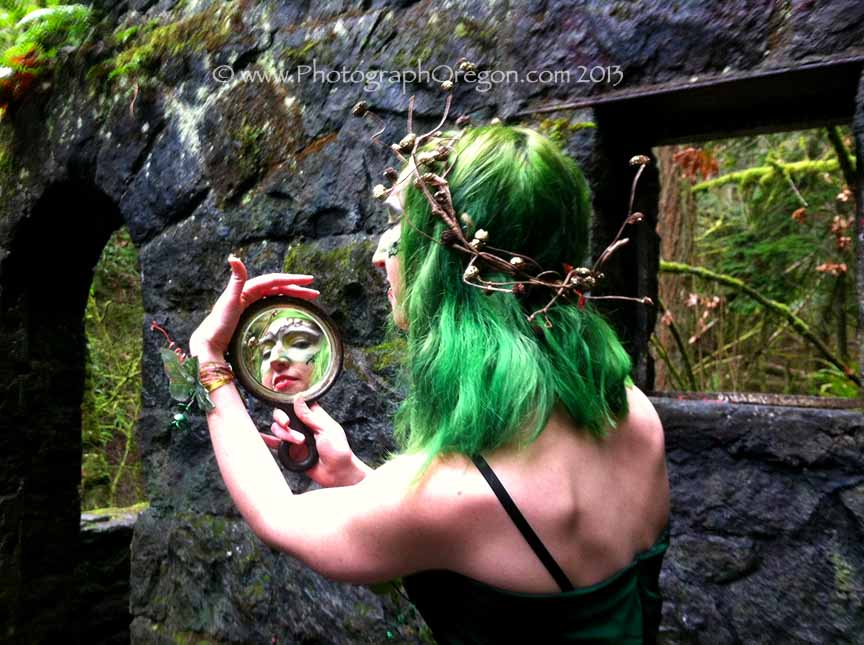 The iphone does perform kind of poorly in low light but I liked this shot of Portland from the river.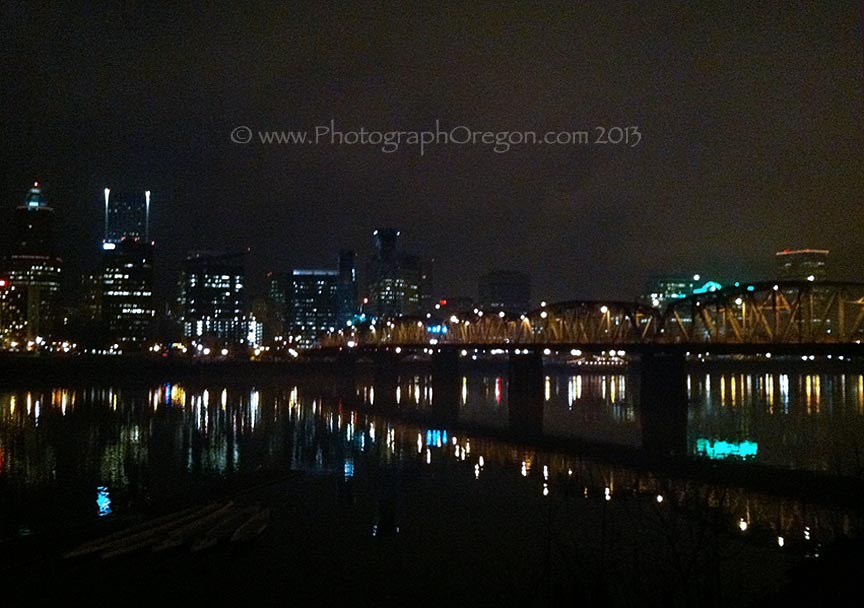 I finally, on my birthday, got my shot of the Grass Valley Church in snow!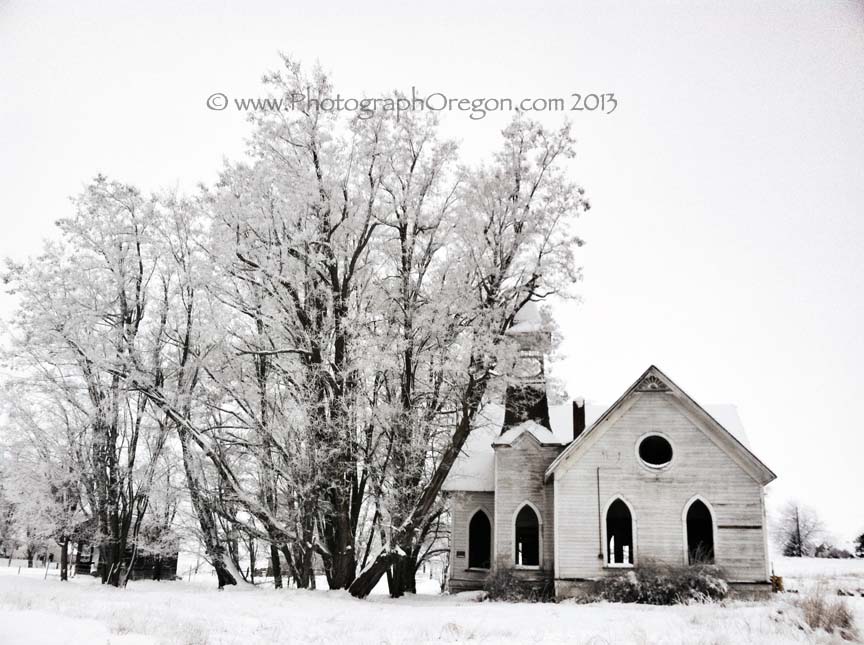 The last trip to Sparks Lake before the gate closed for the winter netted some fine sunrise images. The iphone did a good job.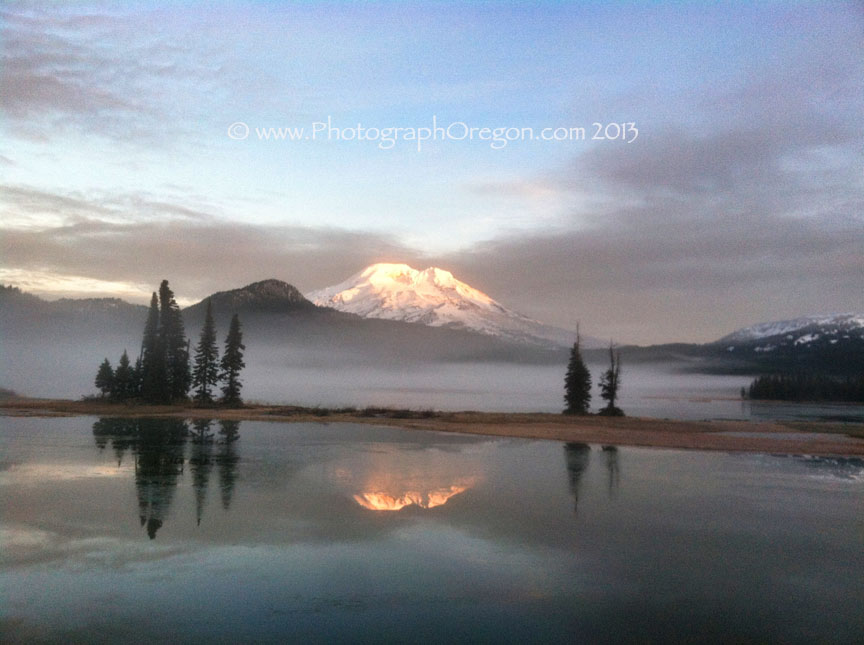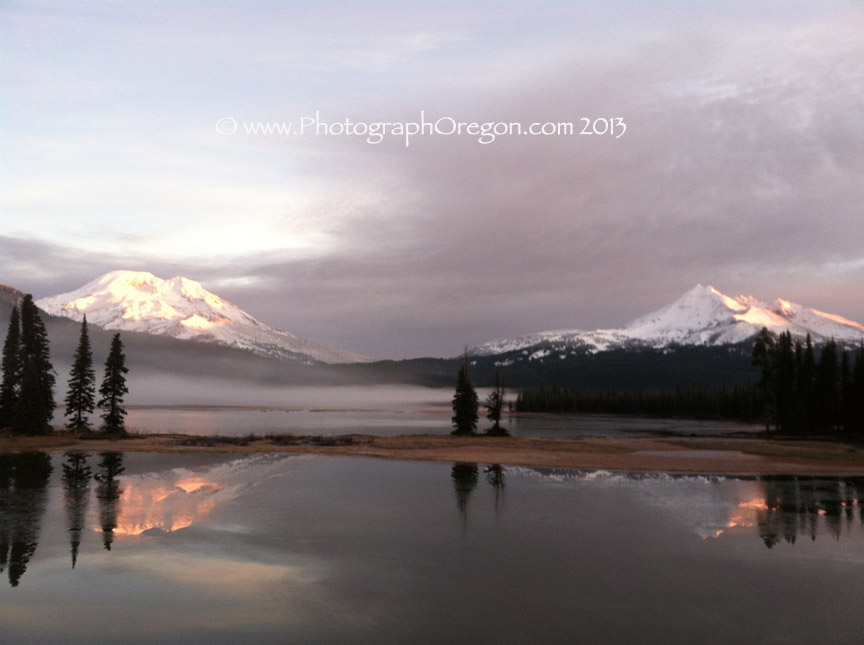 This is one of my first iphone photos playing around with a volunteer sunflower in my front yard. I was pretty pleased with it and felt the need to share it on Facebook right away! Then, I made it into a posted with a quote. I'm pretty surprised that the print quality was decent.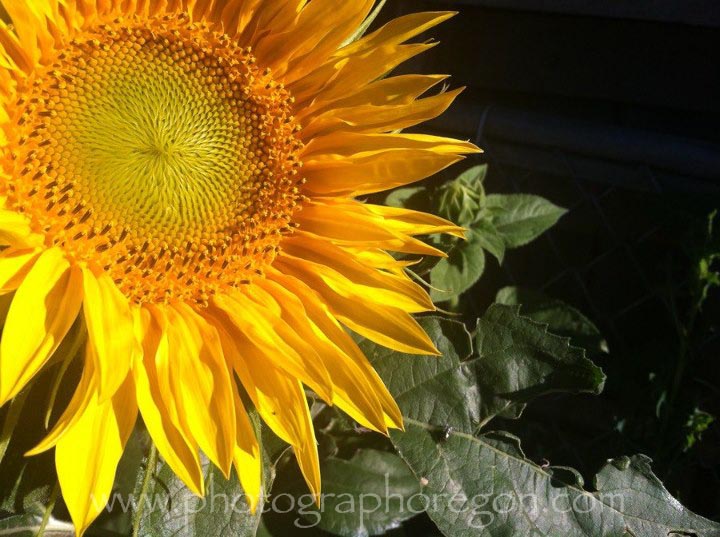 I started playing with the Snapseed settings when I got to this abandoned house I had scoped out a few weeks earlier on Wednesday Birding.
I really loved the look of the drama setting.
If you're heading north on hwy 97 this house is right off the highway on Cherry just past the airport.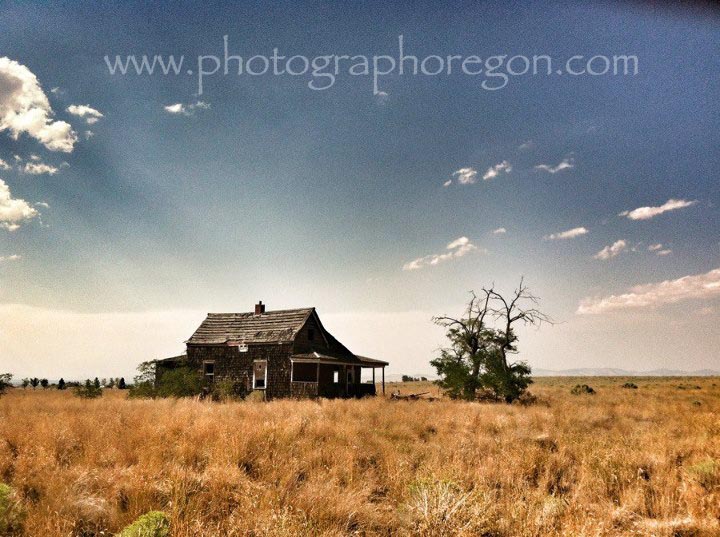 At the museum was directed to this lovely old church with instructions not to go inside. (Looking at it I think that might not have been an option anyway).
I will include it, with directions in the Oregon Churches page. I thought this would be fun to play with the vintage setting and the frames setting. The tones help convey what a hot day it was.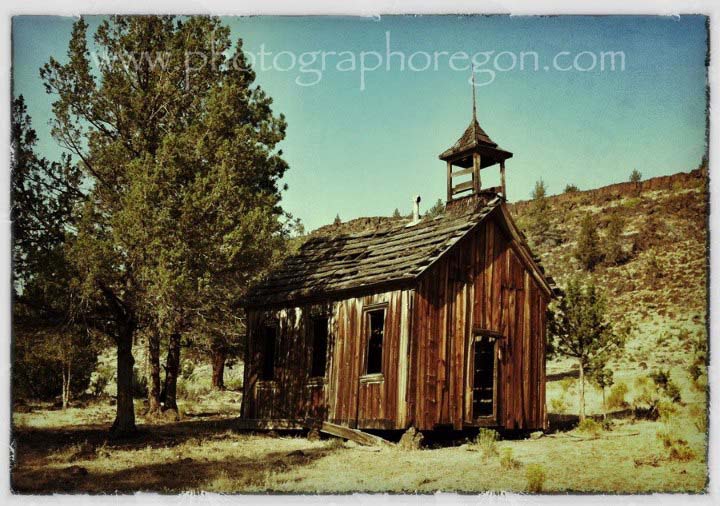 We moved on next north to the Shimnasho church. This one everyone is used to photographers hanging around so it was all fun. There, as you can see in the back, was quite a wildfire raging (Waterfall II) which made all the more drama. I played with the drama setting….the drama setting is really an adjustable setting for an HDR Photography look.
…and I played with the black and white setting and stacked it over the drama setting. No reason in your Oregon iphone photography to not check out your black and white photography options!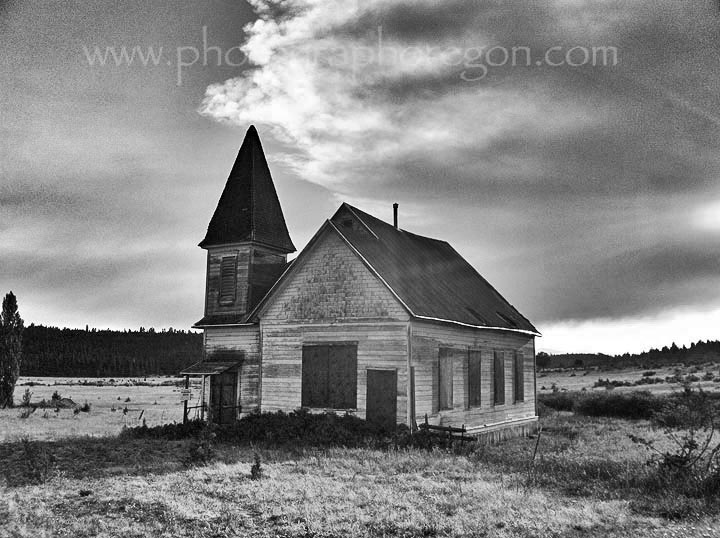 I did manage on a tiny lens like that to get some lens flare somehow. Overall though I think it did a sufficient job given the lighting!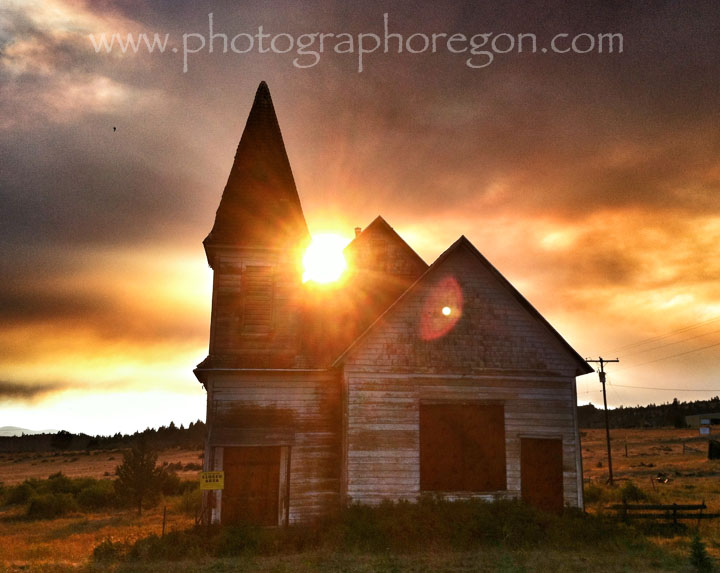 The next night we went back to the north to do some starry night photography at the Balancing Rocks. While the iphone is pretty limited when it comes to pitch dark photography, it does a decent job on sunsets and I used the flashlight app to do some light painting when the flashlight was too strong.
This lovely bit of Oregon iphone photography is the sun setting on the Metoilius River above the Balancing Rocks. While we ate KFC and waited for the stars.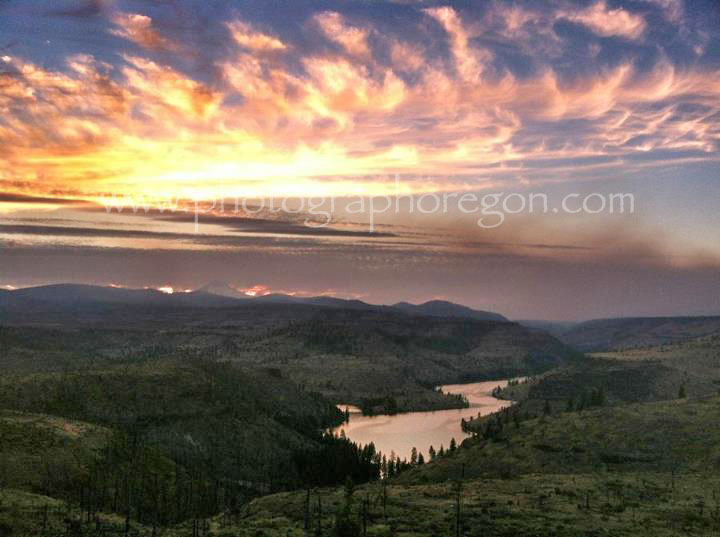 Moving on a week or so, we went to Crack In The Ground, a definite bit of Oregon Odd Stuff. This is probably the worst image I have gotten with the iphone. A result of trying to steady it while huffing and puffing from climbing up and over piles of rocks. There are much better images on the Crack In The Ground page, still, it was fun to be able to share the moment of the wonder of the place with my Facebook buddies.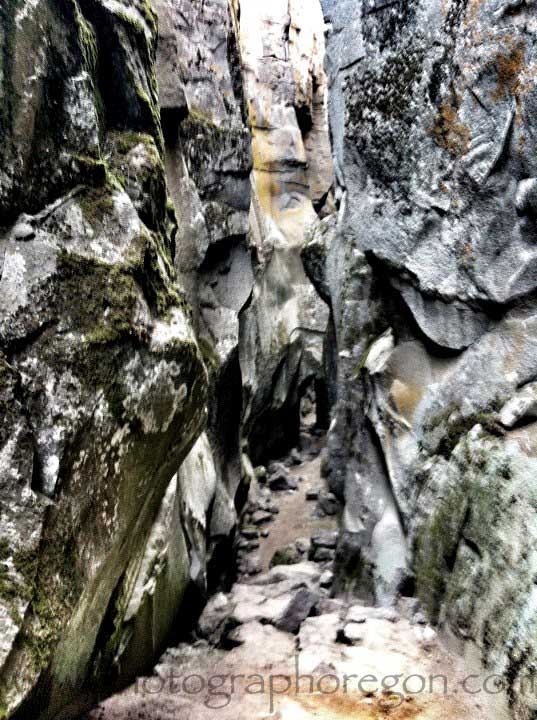 There will be more to come unless I drop it over a cliff or something...wait, it's insured :)
My plan for this section is to share some of the more instantaneous moments in Oregon iphone photography with you as they come to me and you can share yours as well!
(If you're shooting on an Android platform you are still welcome to post.)
Have A Great iphone Photo to Share?
Taking some great phone photos? Share it!
---
Oregon iphone Photography Tips from DPS
---
---
---