Crack In The Ground
"Crack In The Ground, Oregon".
First I would like to say that they should come up with a better name for something so beautiful. More like "Glorious Chasm" or something, but hey, we're Oregonians and we call it like it is. It's one huge crack in the ground, that's for sure.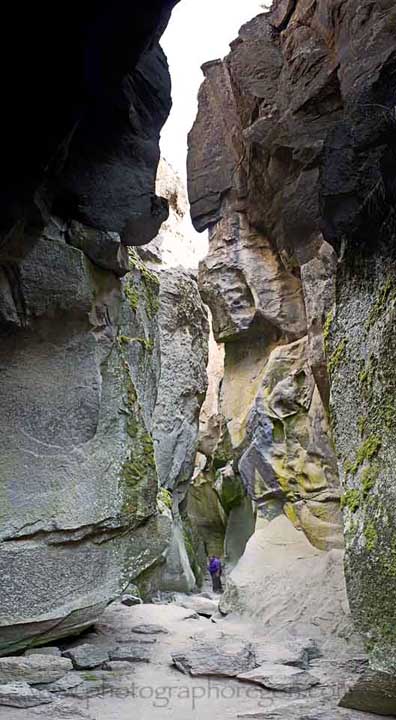 Heading out from Christmas Valley, "The Crack", as locals call it, is either 7.5 miles off of Christmas Valley Hwy, or 8 miles, depending I suppose, on which sign you chose, or where they measured from at the 2 mile long crack.
We headed out for a day of exploring and had both Hole In The Ground and Crack In The Ground on our list. The second was as impressive as the first was not. They're different in their own ways, but for drama factor, go to The Crack.
Considered young by geology standards at only around 1,100 years, The Crack comes from a tension fracture along a hingeline caused by the draping of Green Mountain lava flows over the edge of a concealed fault zone.
Located in the southwest corner of the Four Craters Lava Field in the Deschutes National Forest, Crack In The Ground is a volcanic fissure over two miles (3 km) long and as deep in some spots as 70 feet (21 m).
We went on a hot day but it was a good 20 degrees cooler down in the bottom. It was really nice! Local lore has it that the original settlers used it something like a refrigerator to store food.
After going down the dirt road as directed by the signs you will see this. That means you're there. Park and take the dirt path.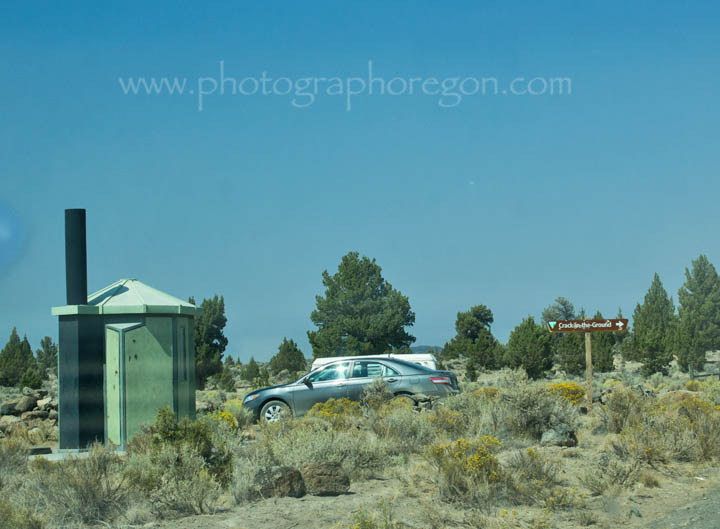 When the path diverges if you want to go to the top and look down, and/or sign the guest book, take the path on the right lined with rocks.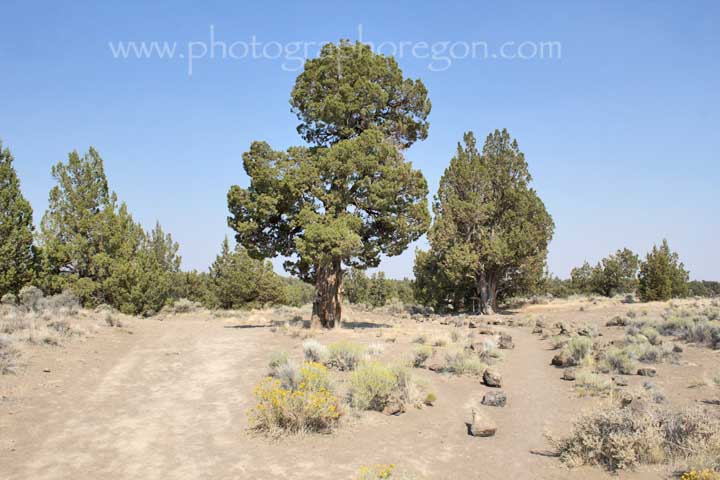 BE CAREFUL as that right path goes over to the very edge with NO WARNING. For this shot I was standing on the edge looking down and it made me nervous. It's really deep. Not a time for "Hold my beer and watch this."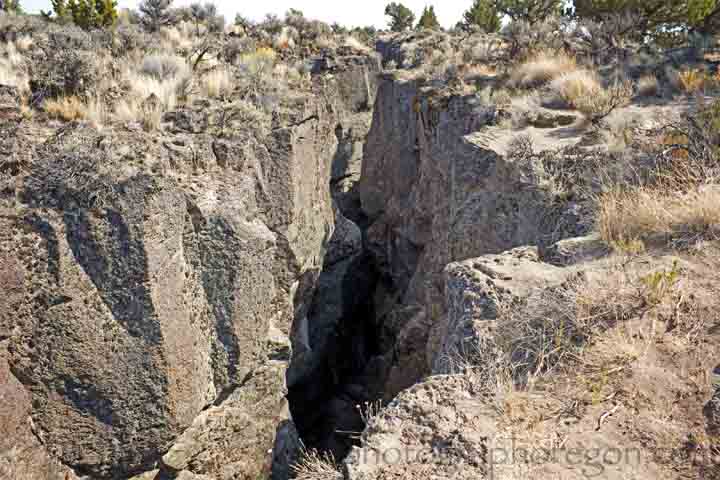 If you want to go right on in, take the path on the left.
Once inside there are amazing textures, colors and structure as the crack goes deeper. There is an occasional scrabble over rocks but nothing too difficult. My husband uses a cane and I have a passel of camera gear and it was fine.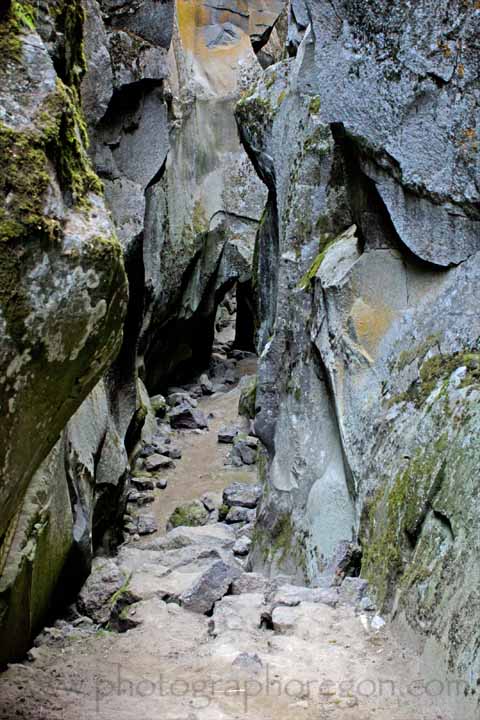 If you want to crawl through some spots like a nine year old you can, however, you can also go around. I was being adventurous, but I also whacked my head on a low hanging rock point ...boo hoo. If I'd not been wearing Grandpa's hat I might have had some blood.
At this point here, it's a little climb over some rocks. The trail goes on and is pretty but nothing like what you've already seen.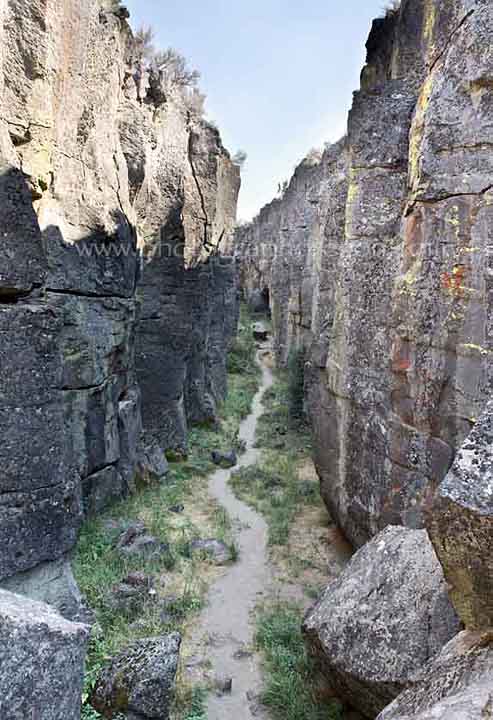 When you come back out the original entrance, you can cross over the trail and go to the other side, however, it is not quite as user friendly.
I did however see another trail entrance from the aerial map, so I might have to check that out too next time!
Twin Fault
I had herd rumors there there was another crack (fault) near Crack-In-The-Ground that was deeper, but hard to access over a large lava flow.
When I looked at the info sheet as to how Crack-In-The-Ground was formed that is at the trailhead I noticed that they thought it was a rectangle shaped wedge that jutted out. I figured maybe the other fault was the other side of the wedge.
I got on an overhead map and started to do some looking. I believe I have found it and will be going to check it out sometime soon.
In the meantime, if you want to go check it out, well, good luck and let me know!
As with anything that might be considered a slot type canyon I would be very careful about going in there when there's rain predicted. On one hand I would really like to photograph the rocks when wet, on the other hand, I would like not to drown, or worse, ruin my equipment in a flash flood. It's pretty narrow and I bet it would fill up fast.
If you started from Central Oregon and came in from the south via Fort Rock, you can, if you'd like to make a day or two out of it, continue on to many other cool venues. Devil's Garden and Derrick Cave and The Lost Forest or from Derrick Cave on up to the Cabin Lake Bird Blinds and The South Ice Cave, which will bring you back to Finley Butte Rd and on in to Lapine.
Or you could go back to Christmas Valley and attempt the Oregon Airplane Wrecks.
There for a real "middle of nowhere" there is an amazing amount to do out in that area.
Side note: If you plan on eating, your options are, BYOF, the restaurant in Fort Rock, or the little tiny deli store in Christmas Valley. The hot dogs are decent there.
Directions:
From Bend, Oregon take Hwy 97 south to HWY 31 to Fort Rock Rd. Turn left. Go past Fort Rock and turn left on Christmas Valley HWY. Just past the town turn left on Crack In The Ground Rd. Park at the bathrooms and sign. Walk in about 1/3 mile to the crack.
Google Map to Crack In The Ground, Oregon
---
---
---
---