Mary D. Hume
by D. Scott
(Florence, Oregon)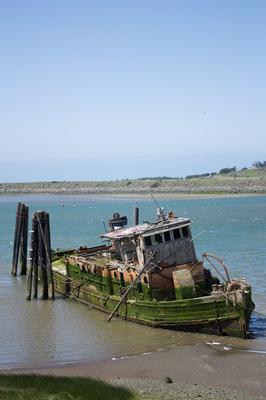 Mary D. Hume
The Mary D. Hume served her first ten years as a coastal freighter hauling wool, canned salmon and other goods from the Oregon Coast to San Francisco. 1890 was the peak of the Artic whaling industry and small steam sailing vessels were selling at premium prices. On December 5, 1889 the Pacific Whaling Co. purchased the Mary D. Hume for $25,000 and the Mary D. Hume started her career as a Artic Whaling vessel. The Mary D. Hume soon departed for the Bearing Sea and a 10 year career that made her famous in Arctic Whaling history.

The Mary D. Hume recorded the largest catch of whale Baleen, valued at $400,000 after a 29 month voyage. She then made Artic Whaling history with the longest recorded whaling voyage of six years. During her long Artic voyage numerous sailors died from scurvy, cold and lunacy caused by privation. Their bodies were stored frozen in ice until the spring thaw allowed burial on nearby Herschel Island. Her last whaling voyage was recorded in 1889 and on her return trip she was caught in a horrible storm which tore whaling boats from the decks and washed two sailors overboard to their deaths in the frigid sea. The Mary D. was then retired to towing service on the Nushagak river in Alaska.

May 20, 1909 The American Tug Boat company purchased the Mary D. Hume and she was fitted as an ocean tugboat. 1914 she was refitted with 10 Halibut Dories for a brief career in the Alaska halibut industry. This Halibut voyage lost money and the Mary D. Hume soon returned to ocean towboat duty. She served proudly as a Tugboat under numerous owners for 60 years Her final retirement was the summer of 1978, she sailed under her own power, into the Port of Gold Beach and her final resting place within a few hundred feet of her birthplace.