Waterfalls in The Willamette Valley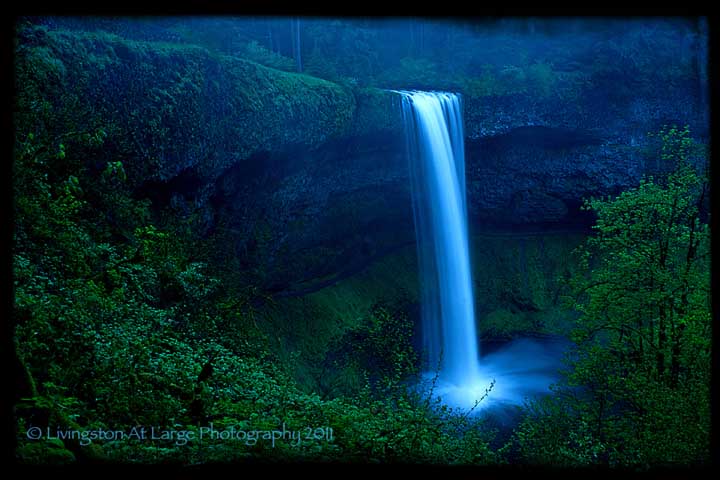 Silver Falls State Park
Many of the abundant waterfalls in The Willamette Valley, in Oregon are available year round for photography. The Willamette Valley is a long fertile valley bordered on the west by the Oregon Coast Range and on the east by the Cascade Range and is the most populated region in the state of Oregon.
The Trail of Ten Falls is one of my favorite day trips.
Silver Falls State Park, 20 miles east-southeast of Salem is Oregon's largest state park at over 9000 acres. The trail loop is 8.7 miles and an easy one.
The photo above is the South Falls, usually the first one you will see. It is the second longest in the park at 177 feet and the longest straight drop.
South Falls, like Multnomah Falls, has a lodge that is not a lodge anymore but has a café in it.
Many of the falls in this park have trails that go behind them, including this one.
North Falls also has a trail that goes behind it.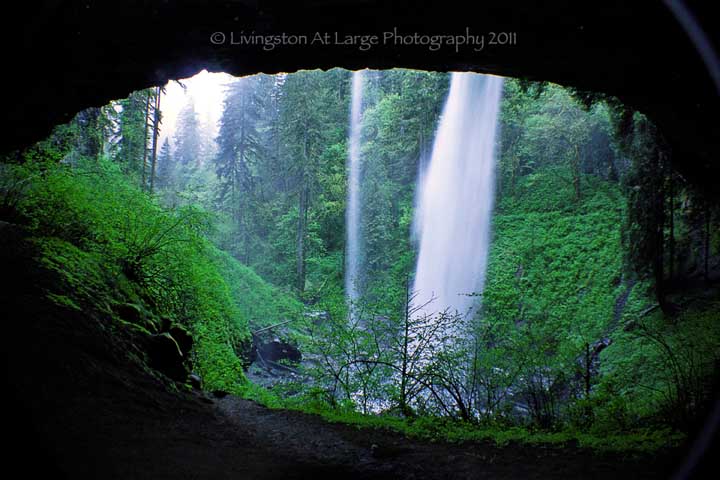 Fees: Day-use permits are required year-round. They can be purchased at the entrance booth, or from theyellow vending machines (summer) or fee tubes
(winter) and the North Falls trailhead. Annual passes and two year
day-use passes also are available. 
Your camping receipt also acts as a daily
Permit but is only valid during the length of your stay.
Maps:
Google Map To Silver Falls State Park
Silver Falls State Park Brochure with map
Wildwood Falls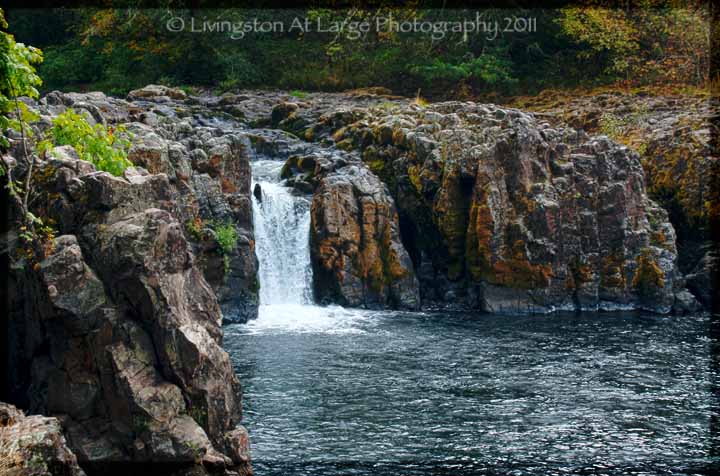 Wildwood Falls is located about 25 minutes outside of Cottage Grove, Oregon on Row River Rd. Cottage Grove is also home to many of the covered bridges and the Dr. Pierce's advertising barn and makes a nice little detour. 
Wildwood Falls is also on the way to the Bohemian Mining Country, which we planned on getting to the day we photographed these falls, but time got away from us as we ate wild blackberries and photographed caterpillars on fall leaves and the landscape shots of barns across from the falls.
In the summer the big pool that the falls drop into is used as a popular local swimming hole.
During high water flows, when the swimming is too dangerous, kayakers run the waterfalls which is AWESOME to photograph.
There is a little picnic area and porta-potties. 
Wildwood Falls is not located anywhere near or has anything to do with Wildwood Recreation Site at Mt. Hood.
Fees:
There is a small day use fee, but I can't find anywhere online what it is. I thought it was $3. 
---
Google Map to Wildwood Waterfalls
---
---