Voodoo Doughnuts And
Wedding Chapel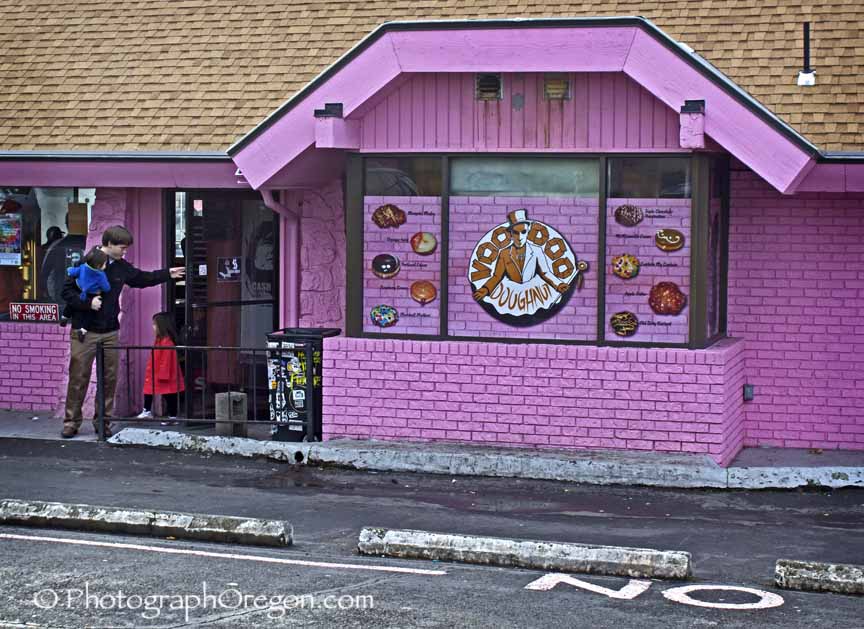 I had heard of Voodoo Doughnuts and once in a bingo game in a biker bar in Eugene (that's a whole different story), I won a game called "Sh*t From Your Pockets", and one of the things I won was a menu from Voodoo Doughnuts & Wedding Chapel. I was fascinated by it and carried it faithfully in my make-up bag hoping someday to actually get to visit the place.
It happened.
Really we had already left town and were staying 15 miles away in a hotel heading for the Columbia River Gorge Waterfalls, when I realized I left my jammies at the last hotel and well, also forgotten to go to Voodoo Donuts (it's spelled both ways). My friend and photo spouse is such a good sport that she allowed that we should go BACK to Portland, go to Voodoo and retrieve my jammies. What an awesome friend!
We'd been told by many that at the original downtown location a person could stand in line for an hour or more to get a doughnut, well, we heard that about all the locations, but I was hopeful that the east side location might be less crowded (on a Sunday..hahahhah) and I knew we could navigate easily back to the hotel from there so we did opt for the outlying store on Davis.
With over 90 "well loved doughnuts" on their menu, I think the most popular being the bacon covered maple bar, this 24/7 cash only place is crazy.
I ate this one. It was divine.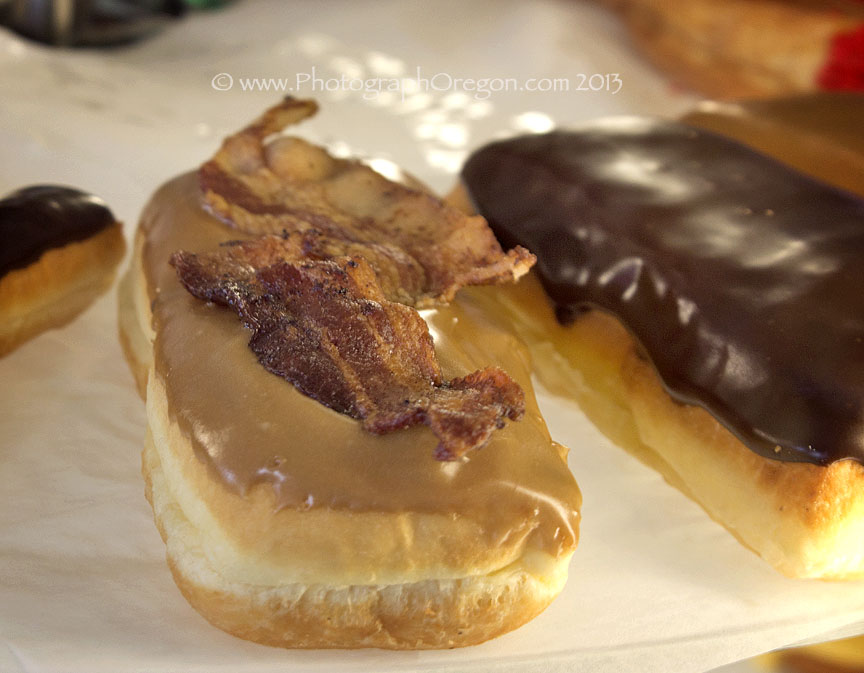 Sunday morning, when folks are most likely to go for doughnuts. I said a prayer and told Donita (my good natured friend) that we should have the blessing to not wait in line for an hour (but we made plans to take shifts). We walked right in and there were only a few people in line.
It was a place with the most fun kind atmosphere. Parents and kids having a nice Sunday at the doughnut shop. Hanging out, sitting on the coffin benches and playing pinball.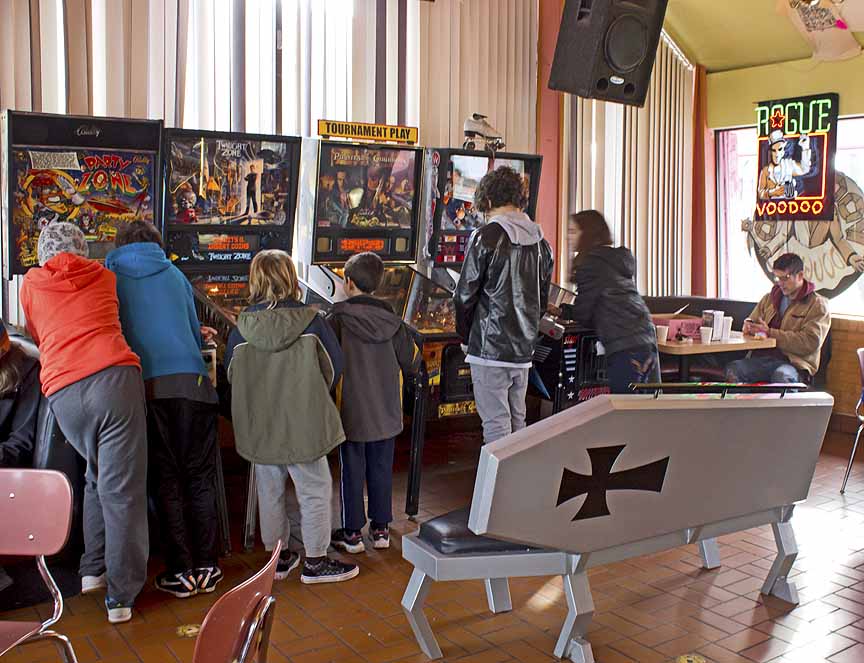 We picked out some doughnuts for us and to take home for the guys.
I got a bacon covered maple bar for myself and my husband. I also got him a chocolate doughnut covered in Coco Puffs (or Count Chocula, not sure) and I got a banana, chocolate chip, maple fritter the size of a plate. I ate it in small bites over the course of the day and night. It was amazing.
They were boxed up by the doughnut dude, the employees are well known for their tattoos and piercings.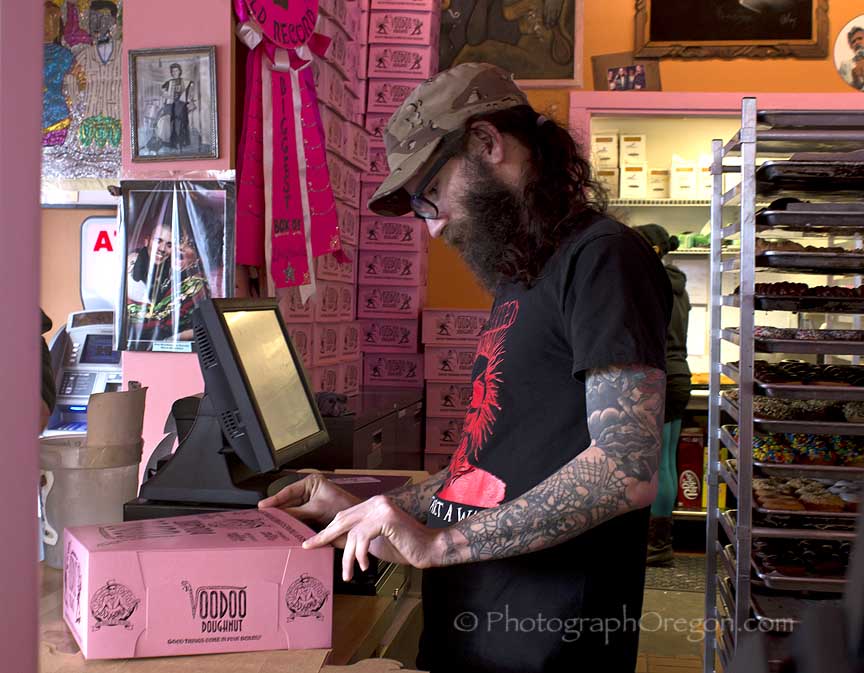 Short of waiting in line for an hour or a wedding under the velvet painting of Isaac Hayes, Kenny Rodgers or a crying Conan I could not have had a more full, fun doughnut experience.
Out in the parking lot there was a large black raven begging for doughnuts. (I didn't succumb). Perfect!
They also hold the record for the World's Largest Box of Doughnuts. You can see the ribbon there on the wall behind the doughnut dude.
Here is the vampire doughnut with a pretzel stake though his heart and jelly blood leaking out. You know, right next to the pink bubble gum doughnut.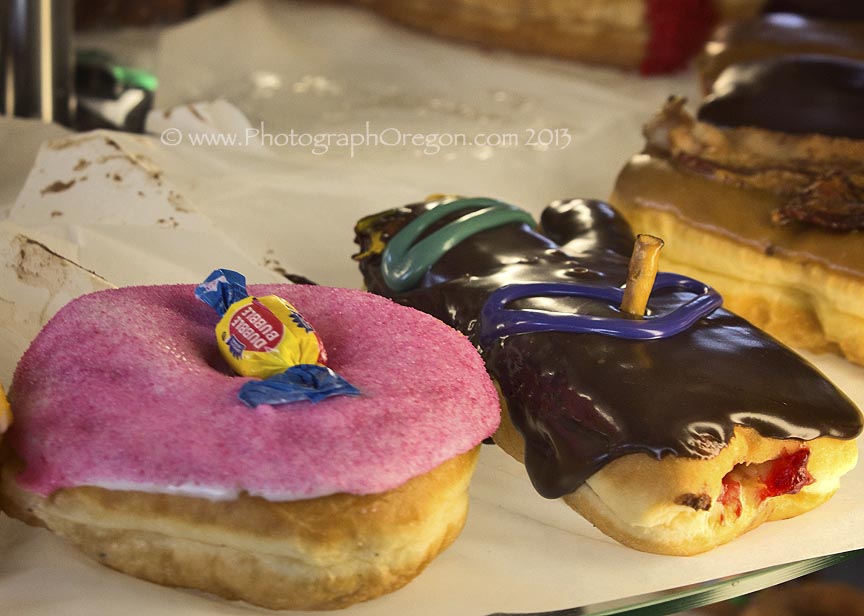 Good things really do come in pink boxes.
---
Locations:
Voodoo Doughnut
22 SW 3rd Avenue Portland Oregon, U.S.A.
Phone 503.241.4704
Voodoo Doughnut Too
1501 N.E. Davis St. in Portland Oregon, U.S.A.
Phone 503.235.2666
Voodoo Doughnut Tres
20 East Broadway @ Willamette ave Eugene Oregon 97401
phone 541.868.8666
---
---
---