Oregon Backyard Birds

Watching Oregon backyard birds is one of the most popular sports! Bird stations abound. Mine double as deer feeders. You never know what will show up at your feeder. One morning I heard all this commotion and looked out thinking some Jays were up to their tricks….and saw an African Gray parrot hanging precariously off the plastic swinging (REALLY swinging) feeder!
I am trying to set up a better station for my backyard birds (in my spare time).
I'll start you off with these little house finches. I got these with a 400MM Canon L lens with a 1.4x teleconverter, playing with lens rentals that I got from ATS Rentals.

The other day I caught a scrub jay and a red shafted flicker fighting over the feeder.This was shot across the yard, through a double pane window.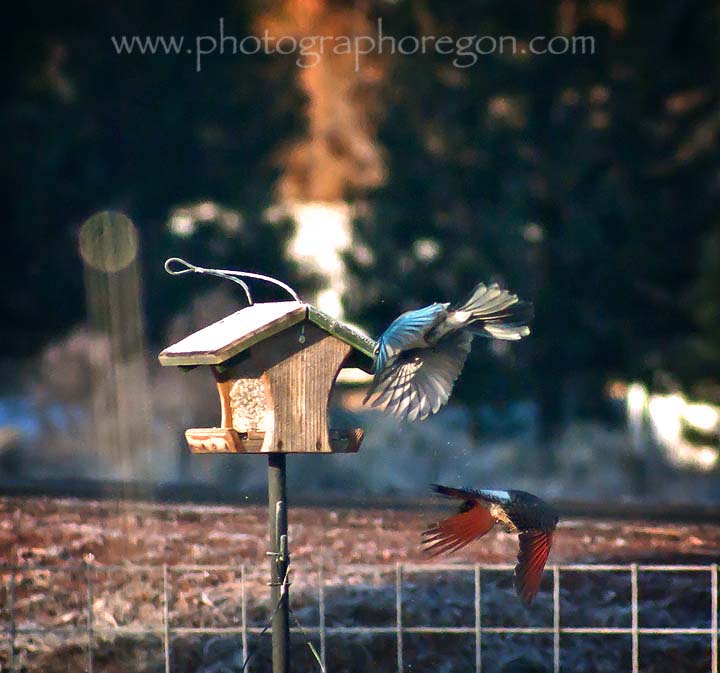 …and this was with another older lens through a window and screen. These are a male (red) and a female house finch.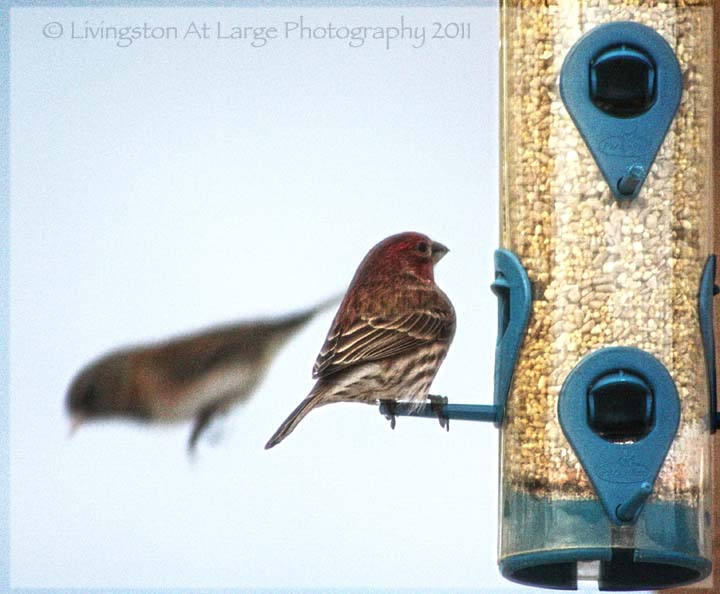 The last couple of years my favorite bird in my backyard has been a young male Northern Flicker that showed up. He makes the most pitiful sound if the feeder is empty. This year he showed up with a lady friend.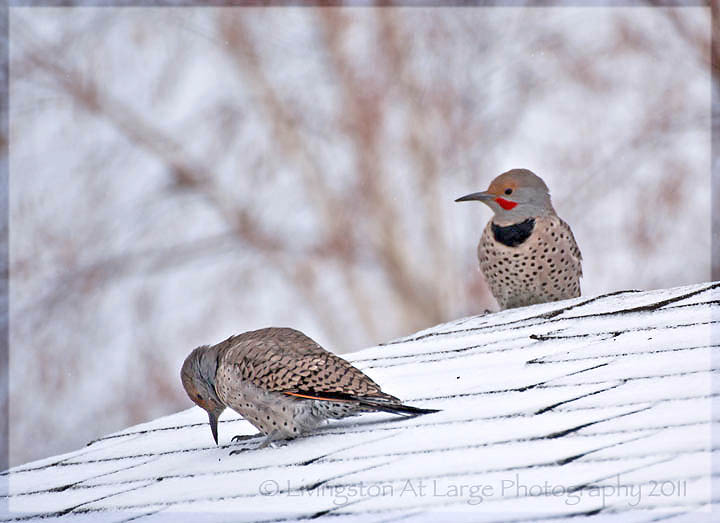 Our ever-present blue jays come in many forms. I get a lot of Stellar Jays and I'll squeeze one in here soon because they are lovely.
Here's a Scrub Jay. We get a ton of these characters.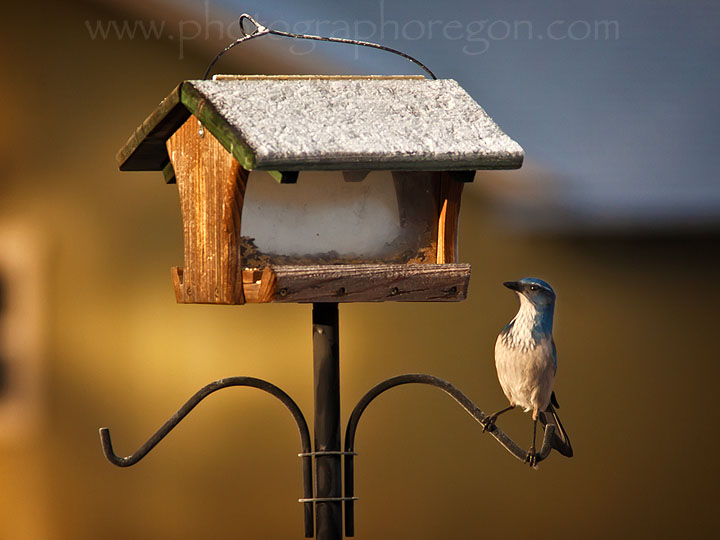 In my yard we also have european starlings, LOTS of european starlings, brewers blackbirds, chickadees, western bluebirds, mountain bluebirds, collared doves barn swallows and many others. In friends yards I've seen grouse, tanagers, goldfinches and a host of other little birds.
I think one of my favorites of the Oregon birds is the western tanager. I've seen TWO ever here and they are fast little suckers so this is all I got.
This pair was hanging out behind the old abandoned Methodist church in Grass Valley. (Pictured on the home page). So, not really MY backyard, more like God's back yard.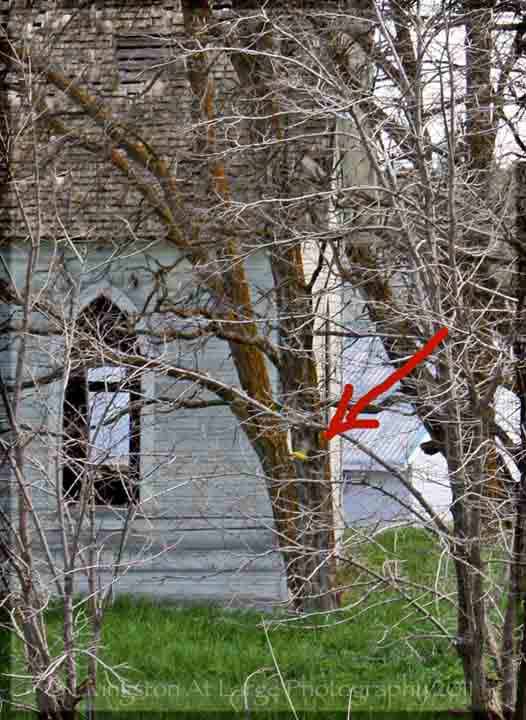 Charlotte, is our most diligent bird watcher. Happily, she is rarely successful at capture.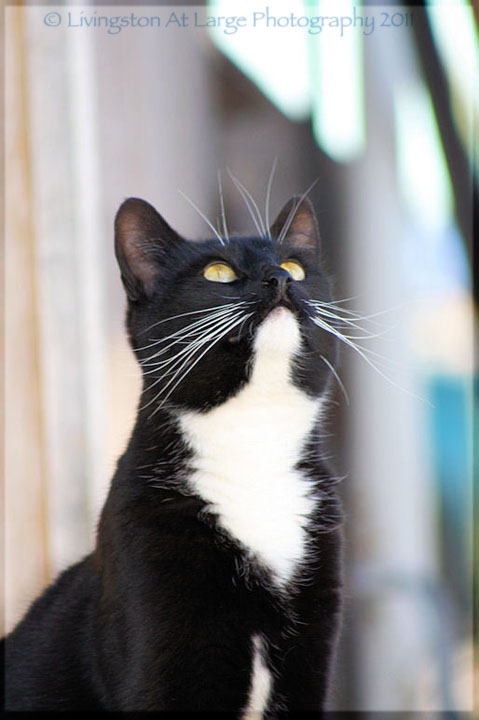 Since Oregon backyard birds differ greatly from region to region I'll leave you with this guide from OregonBirds.com

One of our bird feeders, the one pictured with the finches and the scrub jay is the Wild Birds Unlimited Classic Feeder...
...and seriously it's at least 7 years old and still puts up with a daily bird and weather abuse. At the time I was trying to figure out why I would pay so much for a feeder but I always shop there on my birthday (Dec 29 in case you want to send me a gift certificate :) and so I sprung for it. I've replaced my other feeders many times over and now consider what a bargain this one was! (and in the interest of full disclosure, they don't know I'm posting this....yet.)
Show us YOUR backyard birds!
Share your backyard bird stories and images
What Other Visitors Have Said
Click below to see contributions from other visitors to this page...

Cedar Waxwings and Robin in Winter Not rated yet
I often go on daily walks and see many species of birds, but Cedar Waxwings are probably my favorite winter visitors. Their smooth waxy feathers make …
Is This A Slate Junco? Not rated yet
I found a half dozen of these little guys in a tree on the river at Sawyer Park. I thought it was a junco, but then when I saw it on screen it was not …
---
Oregon Backyard Birds at Birds.com
---
---
---