Mary D Hume
Here's the story of how I accidentally photographed the shipwreck of the Mary D Hume.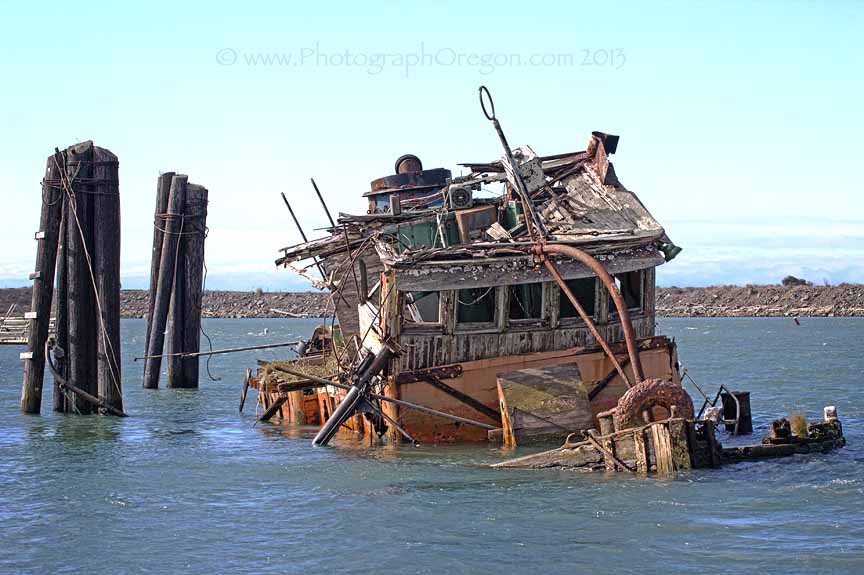 One afternoon on a trip down the coast a friend and I were chatting about stuff. She mentioned that some time we should come take a jet boat trip up the river and pointed out a place that did the jet boat trips. Right away I yelled "PULL IN THERE RIGHT NOW!"
She said "Well, I suppose if you want to take a jet boat trip now we can do it."
"NO! Look at THAT!"
I pointed to the old wreck in the tiny bay.
"WOW! Good eye!"
We had been looking for old wrecks all up and down the coast and there was a really spectacular one right in front of us.
We stayed for a while, did some photo and video and then went on our way.
Later on I found out that what we had photographed was the wreck of the Mary D Hume
Mary D Hume History
Built in 1881 by R.D. Hume for his Cannery in Gold Beach, which was called Ellensburg at the time, the Mary D Hume was named after his wife. For her first eight years she hauled cargo between San Francisco and Gold Beach.
In 1889 the Hume was bought by the Pacific Steam Whaling Company, to be used as a whaler in the Arctic. She was re-rigged as a brigantine. Her first expedition went from 1890 to1892 where the crew caught 37 whales for a cargo worth $400,000.
Her next voyage lasted from 1893 to 1899, where at some point relief crews were sent to meet her in Canada.
In 1900 the ship became cannery tender for the Northwest Fisheries Company in Alaska where she got a new steam engine between 1900 and 1904.
She underwent repairs in Seattle after she sunk in ice in the Nushagak River.
Somewhere around 1906 or 1908 the American Tug Boat Company of Everett, Washington put her to task towing logs and barges on Puget Sound. At this time the ships's superstructure was changed.
In 1939 a third engine, salvaged from the Columbia River lightship, was installed. In 1954 a 600 hp diesel engine was installed and the superstructure was altered to its present configuration.
Crowley Maritime Corporation bought the ship in 1973 and used it as a tugboat until she was retired in 1977. At that point the Mary D. Hume had the title as the oldest serving commercial vessel on the west coast. Crowley reconditioned her in 1978 before to her return to Gold Beach.
At that time the Curry County Historical Society tried to make her into a museum ship with no luck. They organized an effort to preserve her as a museum ship, but she slide into the mud at Gold Beach due to a mechanical failure and then an unrelated lawsuit over ownership of the vessel used up the funds which had been earmarked for her restoration.
The worn vessel sank in the Rogue River in 1985 and has bobbed there ever since as a derelict vessel on the shoreline where we spotted her.
The Hume shipwreck is on the National Register of Historic Places, and she is in an easy location to photograph from the parking lot of Jerry's Rouge Jets in Gold Beach. (29985 Harbor Way Gold Beach, OR 97444)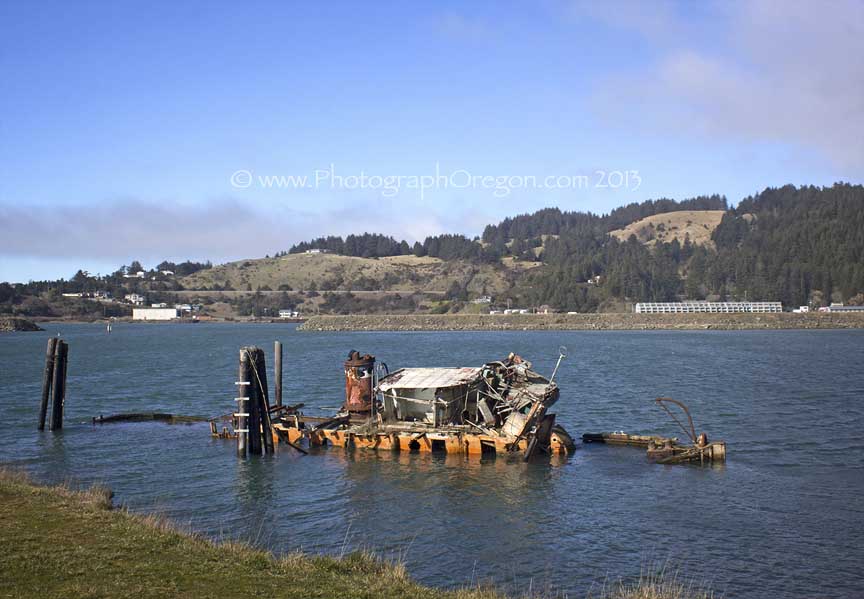 While you are there, turn around and photograph the Isaac Lee Patterson Bridge, which is also pretty, historic and some fun to play with black and white HDR.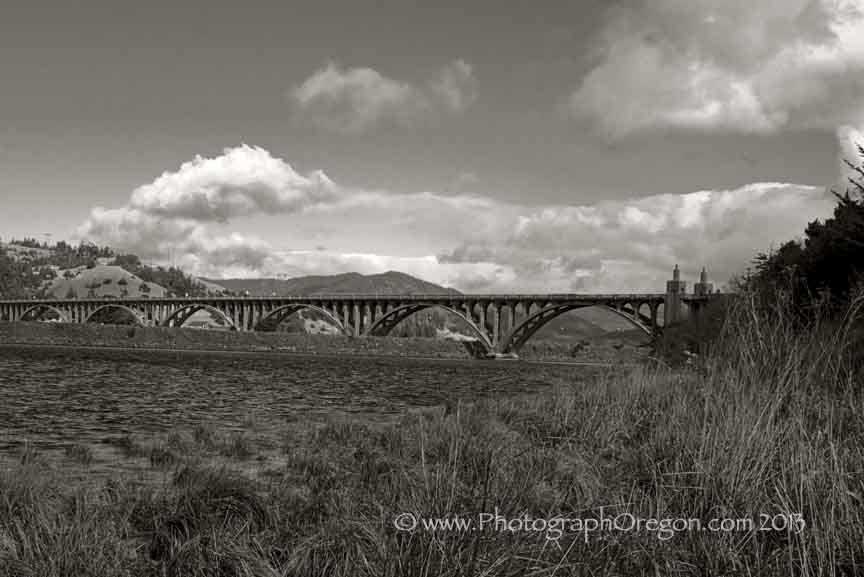 I even found a song on YouTube written about the Mary D. Hume! It is very sweet.
The Oregon Coast's page on The Mary D Hume
---
---

---